Newsletter TELL ME 2014-07-04
on
Sat, 07/05/2014 - 14:23

Transparent communication in Epidemics: Learning Lessons from experience,
delivering effective Messages, providing Evidence
The TELL ME project was created in response to European Commission Call (DG Research and Innovation ‐ HEALTH), for developing an evidence‐based behavioural and communication package to respond to major epidemic outbreaks.
A "perfect storm" of disease threats?
The first half of 2014 has been marked by simultaneous infectious threats emerging all over the world: increasing refusal of measles vaccination based on false myths spread through the internet let the disease go back even where it was near to be eradicated; new polio outbreaks burst in several countries, menacing Europe and moving away the goal of eradication; H7N9 kept on causing cases and victims, even if, at the moment, it seems to be confined to China; MERS-CoV, identified last year in the Middle East, has reached also America with few cases; Ebola epidemic in West Africa has been said to have gone «out of control» by Bart Janssens, MSF director of operations for Doctors without borders (MSF, Médecins Sans Frontièrs).
This situation has prompted US CDC Director Dr. Tom Frieden and U.S. Department of Defense's Andy Weber to say in their blog on CNN.com: «The U.S. and the world now face a perfect storm of disease threats».
According to TELL ME experts and their findings these alarmistic tones don't pay and won't help to raise awareness and preparedness. But certainly the situation needs to be followed carefully.
A series of videointerviews on the TELL ME project website will face these issues in the next weeks. In the first one Manfred Green, head of the School of Public Health at the University of Haifa in Israel and scientific coordinator of TELL ME project, explains why the spread of MERS-CoV hasn't been called a pandemic yet, despite reaching more than two WHO regions.
The power of social media in risk communication at the World Congress on Disaster Management, Toronto
A poster on the power of social media in risk communication based on TELL ME results found a lot of interest by stakeholders participating at the World Congress on Disaster Management in Toronto. The document includes a decalogue on the 10 golden rules of communication and a new graphical representation of TELL ME project framework model of communication. You can read and download free all these items from TELL ME website, where you can find also all the documents produced as far by the consortium.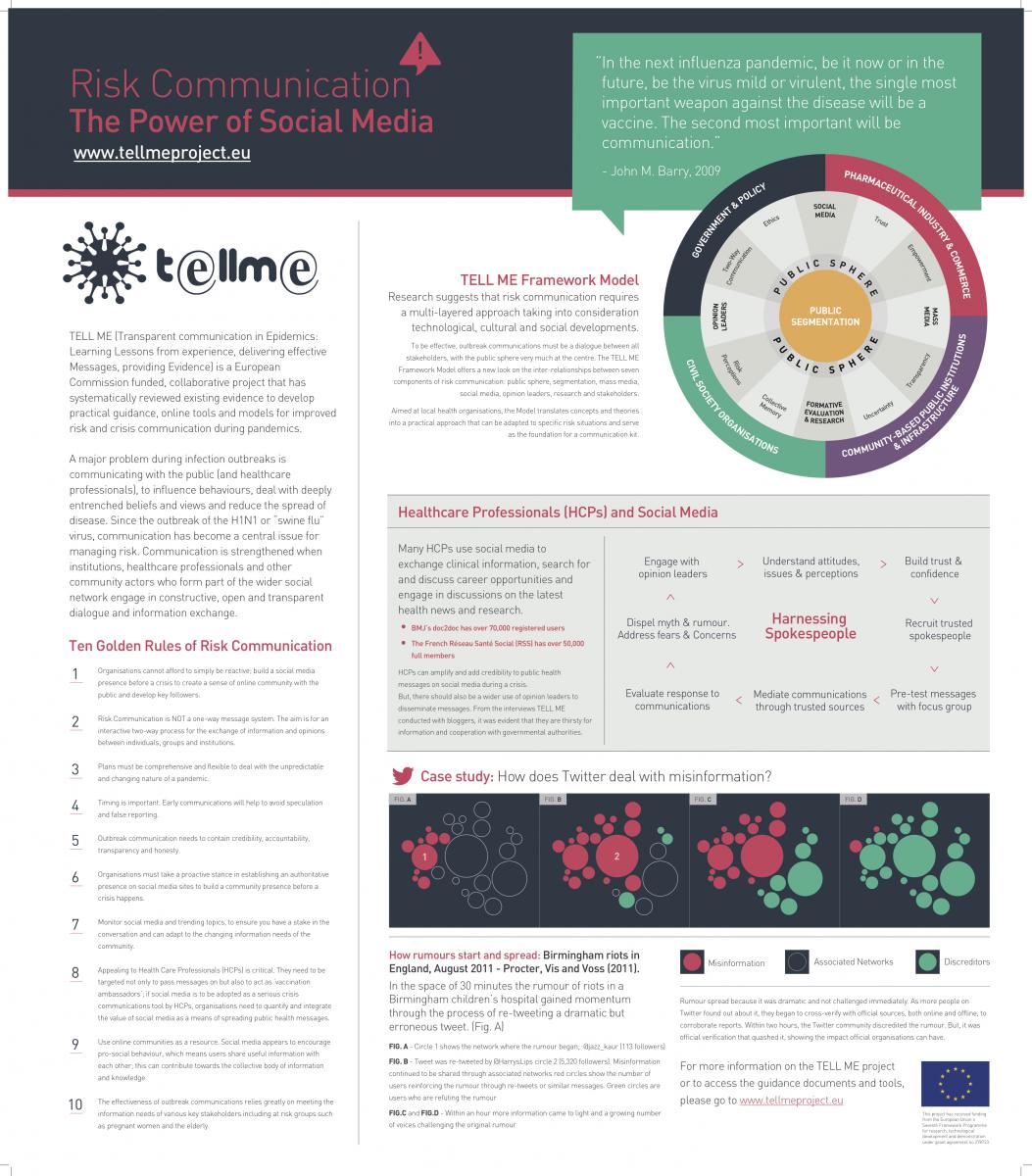 E-learning about infectious outbreaks
One of the main lessons learnt from the experience of 2009 A (H1N1) pandemic is the crucial role of healthcare professional in such cases. In fact they, notably GPs, but also nurses, midwives, health assistants, et cetera, often have strict relationship with patients, are their fist source of information in emergencies and enjoy high levels of credibility and trust from the public. In the analysis made by TELL ME project in D2.3 (Report on Health Care Professional Communication Requirements) interviewed GPs felt that, when in 2009-2010 patients were alarmed by media communication on the pandemic, they did not have enough information and tools in order to handle people's doubts and give them reliable information, especially about vaccination.
TELL ME project therefore produced a prototype of an online interactive course to help healthcare professionals to get acquainted with the TELL ME issues  of transparent communication in epidemics, before a new pandemic would occurr. The activity is free and can be done by anyone at this link: http://elearn.tellmeproject.eu. It provides reliable information based on TELL ME research, scientific publications and authoritative sources (WHO, ECDC, CDC). The contents of the course focus on preventative measures, from hygiene to vaccination, training health professional to convey this information to the public, according to counseling principles and improving their communication skills. The risk of discrimination and stigmatization linked to infectious outbreaks has also been emphasized, as this is one of TELL ME project peculiarity. 
Call for papers about communication in preparedness and response to pandemics
Disaster Medicine and Public Health Preparedness is publishing a special issue in 2014 on the role of communication in public health preparedness measures and response to pandemics, with particular reference to infectious disease outbreaks.
A call for papers was launched and its deadline has been postponed to August 22. Aim of this issue is to bring together the most relevant research from two EU-funded projects – TELL ME and Ecom@EU – that are currently investigating the factors that impact on communication strategies and their relative effectiveness during a pandemic, but it is open to other contributors worldwide as well.
This special issue will focus into several themes, from public involvement in communications to governance, policy, ethical and legal issues, from the role of social marketing, mass media and the new social media to business continuity and vaccination campaigns.
Healthcare workers, part of the system or part of the public?
The American Journal of infection control has just published a new paper by the University of Haifa, member of TELL ME consortium, on the ambivalent risk perception in health care workers. Are they part of the system or part of the public, hence a risk group? Recent studies have examined the role of health professionals' personal risk perceptions and attitudes regarding compliance of the general public with vaccination. Our study examined how risk perception affects their risk analysis, through an online survey of Israeli health care professionals and the general public in Israel (N = 240).
The results suggest that when risk perception is relatively low, health care professionals tend to base their attitudes toward vaccines on analytical knowledge (Rc = 0.315; P < .05), whereas in situations with high risk perception, the results did not indicate any significant difference between Israeli health professionals and the Israeli general public, hence both groups base their attitudes more on emotions and personal experience than on analytical knowledge.
Public health organizations must consider that healthcare professionals cannot be automatically treated as an extension of the organization. When the risk is tangible and relevant, health care workers behave and act like everybody else. This shouldn't be forgotten in case of pandemics.
TELL ME model of outbreak communication presented at the COMET 2014 conference in Lugano
On Friday June 27th TELL ME framework model was presented at the COMET 2014 conference in Lugano, Switzerland. Anat Gesser-Edelsburg explained it within Session XIV about Risk Communication and Issues of Public Health, showing the new graphical representation version prepared by Gary Green and Ross Harrington, from which it's clear that the public sphere, with all its segmentation, should be at the center of the outbreak communication: the public, as all stakeholders as well, must be partners, not a target to aim at.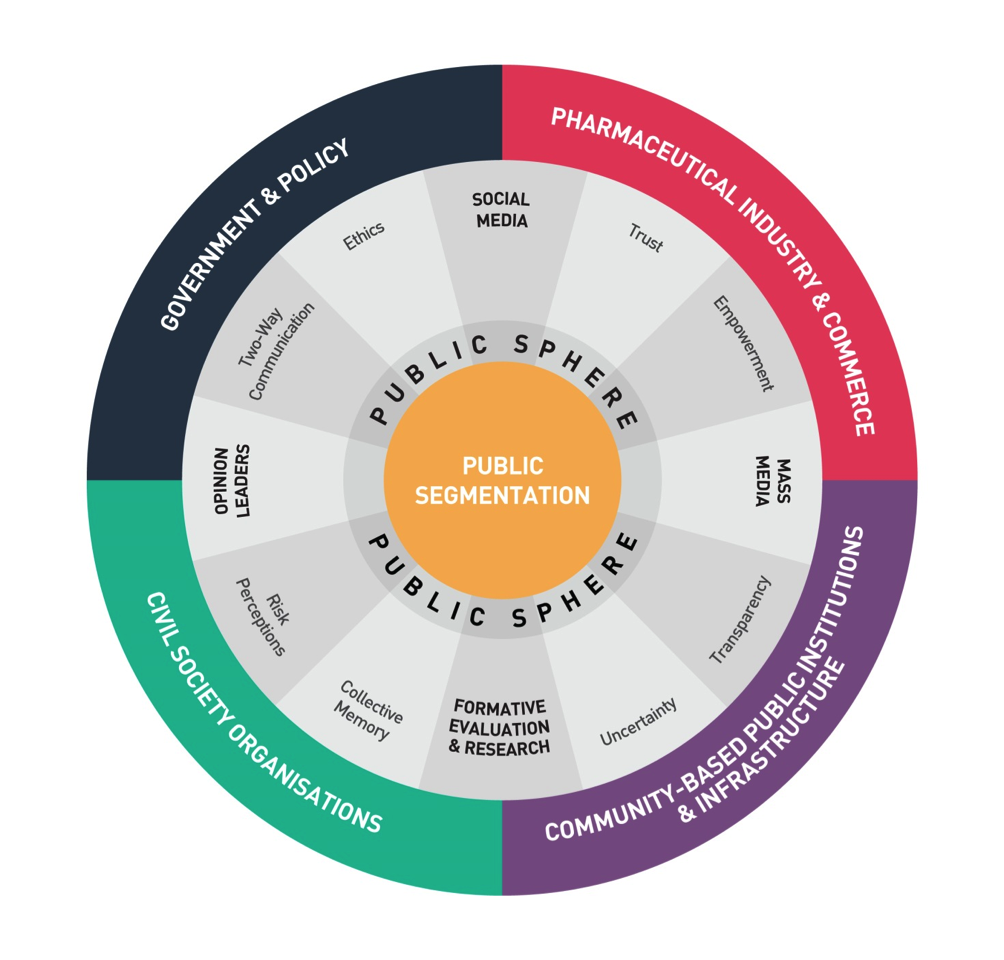 2012 TELL ME is co-funded by the 7th Framework Programme of the EC
Project No. 278723